Please review the following Terms and Conditions BEFORE deciding to inquire about any of our puppies.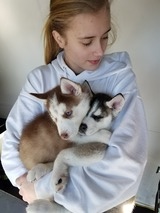 Once a deposit is paid, it's non-refundable, and guarantees the puppy is reserved to the new owner(s) mentioned above. The breeder cannot sell the puppy to another party unless the new owner(s) forfeit the deposit and puppy for any reason. The deposit can be refundable ONLY if the puppy becomes unavailable due to sudden death, incurable illness, or if the veterinarian determines the puppy not to be of sound health ( before pickup). The new owner(s) will be contacted accordingly. In the event that a wait-list deposit is placed, it's non-refundable, and a contract will be filled out once puppies are chosen. Pick of puppies will begin around 4 weeks of age when their eyes are opened, and personalities are shown. This deposit can be transferred to other litters in any circumstance. An emailed copy of the wait-list deposit will be sent as well as a hard copy via USPS. Both parties must sign in order for any puppy to leave the premises. If a wait- list deposit is placed electronically, the buyers automatically agree to all the terms and conditions stated on this contract even without a signature.

New owner(s) MUST pick up the puppy by the pickup date. In an event that it's impossible, the new owner(s) must inform the breeder immediately and arrangements will be made. New owners must keep in contact. If for any reason the new owner(s) do not pick up the specified puppy by the pickup date and fail to keep in contact after a deposit is placed and 2 days go by without any contact, the new owners automatically forfeit the deposit and ownership of the specified puppy. Refunds will not be given.

The Buyer agrees to provide a life-long commitment, comfortable environment, prompt medical attention, training, proper grooming and responsible care. This includes keeping this puppy/dog parasite free and up to date with vaccinations, given proper nutrition, (which consists of a good quality feed given at regular intervals) and freshwater available at all times. The Buyer promises to provide a safe environment for the dog, and never allow the dog to roam freely without proper fencing or supervision or training. In warmer weather (60 degrees +), the buyer agrees to NEVER leave their puppy/dog in their vehicle(s). Micro-chipping is delegated to be decided by the puppy's new owners. The new owners are fully responsible for the puppy once it's picked up.

The breeder guarantees this puppy/dog to be of sound health and temperament at the time of this sale. A health record of all shots and deworming treatments will be provided by the breeder. A health and overall well-being evaluation will be done by a licensed veterinarian of the breeders choice. The veterinarian will check for any symptoms of illness, exam all parts of the body, check vitals, examine for any life-threatening conditions, and check for defects or deformities. The new owners must have their new puppy seen by their veterinarian and given a wellness exam within 24 hrs of pickup. If there is an illness or defect found, the new owners must contact the breeder and send copies of their veterinarian report. The breeder will then replace the puppy of the same gender with equal or lesser value from a future litter.The original puppy must be returned to the breeder with all documents, no exceptions. This health guarantee is void if the new owners fail to get their puppy examined by their vet within 24hrs of pickup.

If at any time the Buyer can no longer retain possession of this dog, the breeder is to be notified and given first option of resuming full ownership of dog and/or given the time for the breeder to locate this pup a new home. Refunds, if any, will be at the discretion of the Breeder/ Seller. The dog will be returned with all AKC or CKC papers (if applicable) and medical records. Should any circumstances arise that affect the quality of life of this dog, the breeder/seller is to be informed so that they may participate in determining the future of the dog. The Breeder/ Seller reserves the right to approve/prohibit any transfer of this animal to a third party. Under no circumstances will this dog be sold, leased, traded or given away to any pet shop, research laboratory, animal shelter or similar facility.

We do NOT discriminate to whom we sell our puppies to. We feel as though each family deserves a chance to own the breed of their choice. We are more than happy to answer questions before and after pickup. However, if a deposit is placed and as we get to know more about each family, then determine they are not a good fit for our puppies, the deposit will only then be refunded or can be transferred to another litter after corrections are made. Deposits cannot be refunded if the new owners decide that they aren't a good fit after they've placed a deposit.

The Buyer agrees to contact the breeder immediately if any questions or concerns arise about the dog, such as housing, diet, health or training. The buyer agrees to keep the seller informed of any treatment as it occurs. This provides the Breeder/Seller with an opportunity to follow up on puppies and gives us important feedback and information on the health of our dogs for future generations.

Registration papers (if applicable) will either be given with the puppy or transferred to the Buyer immediately upon receipt from the AKC or CKC if they are still being processed. It is understood at the time of sale that this puppy is at least a pet quality dog (if applicable) and it is representative of its breed. Show quality cannot be determined at a very young age. The puppy is structurally and temperamentally suited as a companion and/or obedience dog. Training classes are recommended for a happy relationship between the dog and family.

Eye color, coat color/markings, coat length are not guaranteed to stay the same or change. This breed can drastically change . We do not breed for specific eye color.

If in a situation where we do not produce a specified puppy ( when a wait-list deposit is placed), the family can transfer the deposit to another future litter. We usually work with every family accordingly.

Puppies will come with the following: AKC or CKC registration (if applicable), parents genetic health test results, copy of the contract, additional AKC or CKC paperwork if applicable, given their Neopar and 1st DHLPP vaccines, Vet records, copy of deworming schedule, a sample of their puppy kibble, birth certificate, and any informative paperwork.

Full Rights "Terms and Conditions": If a puppy is purchased with Full rights (breeding rights), they have been approved by the breeder and have agreed to pay the fee in full. The buyer must provide a detailed account of their breeding program in the puppy application. The breeder has the right to decline or approve a buyer for full rights for any reason. The breeder does not guarantee that the puppy will physically be able to breed in its future. In addition, there is no guarantee that the puppy will produce quality offspring in its future. Since breeding is not considered a necessity, the breeder overall cannot predict and guarantee any sort of breeding future of the puppy.

Limited Rights "Terms and Conditions": If a puppy is purchased with Limited Rights, they are pet only with no breeding rights and will sign a spay/neuter contract. We as the breeder will decide the time frame to alter their puppy. The puppy should not be altered before 12 months of age, no exceptions. Through extensive research and numerous conversations with veterinarians, it's best to spay or neuter after 12 months to allow proper hormonal and bone growth. In this situation, limited registration paperwork will either be given right at pickup or will only be given after proof of spay/neuter is provided (if applicable). To clarify, limited rights means, ABSOLUTELY NO BREEDING OF ANY KIND. You cannot breed to any dog period! (Doesn't matter if the other dog is purebred, mixed, registered with full rights and/or limited rights, or any other registry) If for an unfortunate reason that the buyer breaches their agreement and knowingly breeds the puppy/dog that's on spay/neuter contract/ limited rights, the breeder has the right to take legal action via small claims court. In addition, the buyer will be fined $1,000 per puppy produced. For all puppies who are on limited registration, a spay/neuter contract will accompany this sales contract.

In a situation where the new owners initially purchase their puppy with limited rights and then, later on, decide to try to obtain full rights, they must contact the breeder immediately. Full rights are only given to approved homes. The new owners must notify in writing of their wish and explain their reasoning and breeding program. A fee of $400 must be paid before the breeder can grant full breeding rights.

If for any reason, neglect or abuse is suspected, the breeder has the right to repossess /take back ownership of the dog(s) without a refund. Examples of abuse or neglect are (but not limited to): punishing a dog by beating or excessively hitting, leaving the dog confined in their own excrement for long periods of time, not providing food, water or shelter, leaving dogs in vehicles during warmer weather, failing to provide vet care, participating in dog fights, allowing children to mess with the puppy in irresponsible ways, and much more. Legal actions will be taken via court.